Black Panther is a stunning visual spectacle.
Black Panther is thrilling, beautiful, fascinating....everything that the critics have been saying. The only question is why it took so long to make this movie. Hollywood has been in a rut lately, seemingly fearful of Afrocentric films. Though some progress has been made, face it, this move has turned Hollywood upside down by brilliantly shattering stereotypes.
If this movie had only been about the natural beauty of Africa, it would be a good movie. The nature scenes are gorgeously shot, the colors and composition are beautiful. In fact if you could invest in a travel agency that specializes in tours in African countries, it might be a good investment now.
If this movie had only been about fictional tribes in Africa, it would be a good movie. For at least two hours (far too short), you can get a feeling about what it's like being a member of King T'Challa's tribe, and how it differs from nine other tribes in the area. It's not intended to be authentic, but nevertheless you get a feeling about what it might be like in an African society. And we are allowed to see the tribe members not as a faceless monolith, but as individuals with different personalities and individual points of views. Hey, if you can identify with green skinned aliens in sci-fi movies, then the Wakandan society should be equally sympathetic. Rituals are cool.
If this movie had only been about ethnically inspired fashion it would be a success. The hairstyles and costumes are fantastically colorful, beautiful and so obviously inspired by African designs. Now please don't get carried away by the Dora Milajae, who are the all-women royal guards, with shaved heads. They are not real, okay? But they are strong and gorgeous and, well, we're just not in Kansas anymore. But perhaps the most important thing is that they are far from one dimensional. You can understand their emotions and motivations and a little about what makes them tick. General Okoye is a particularly interesting character. In fact there could very well be a movie simply about her. Initially it was kind of jarring, but by the end of the movie I had totally accepted the style choices for the Dora Milajae. If you liked the Amazons in Wonder Woman, you'll be just fine with the Droa Milajae.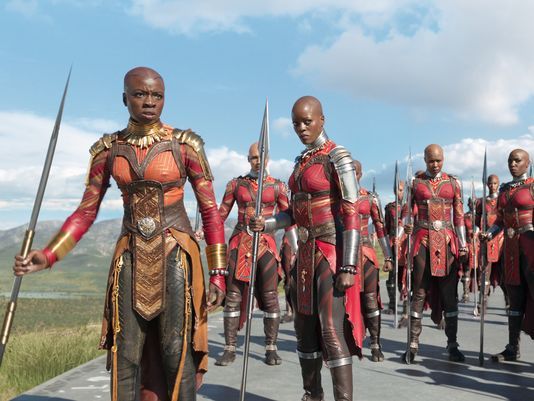 King T'Challa's elite all-female guards, the Dora Milajae led by General Okoye are worth getting to know. Honest. But don't mess with them.
The superhero scenes are very exciting, totally up to spec with Marvel's best. That alone could have carried the movie. There is a diverse cast of bad guys, good guys and in-between guys. They are all very interesting characters. The only thing you can count on is unpredictability.
Marvel did a fantastic job handling the ethnic diversity issue, and in fact clobbering it, at least in this reviewer's humble opinion. Maybe someday there will be a superhero who is Korean-American. Do you suppose? 😊
The best thing I can say about any movie is that I've never seen anything like it before. As for the Black Panther, I've never seen anything like it before.